Meet Our College Access Program Staff
Angelie Lopez, Alumni Services Coordinator at ACE Charter High School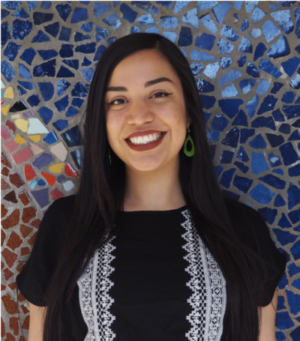 1. Tell us about your job at ACE.
I am the Alumni Services Coordinator, so I work with all alumni. I support alumni in reaching their academic goals – whether that means financial aid support, navigating life away from home or any other issues.
Because I am totally dedicated to the alumni, they know they always have someone at ACE to help them.
I hope to play a small role in dismantling systems of oppression just by helping underrepresented students successfully achieve their academic goals and help them advocate for themselves and their communities.
2. Why did you decide to go into education?
When I realized I was not going to graduate high school I began to panic. With the help of my mother, two teachers, and my academic counselor, they all created a plan which I had to commit to.
I graduated from Abraham Lincoln High School in San José in 2008. This seemingly small accomplishment was significant to my family because my two older sisters and cousins had all dropped out from Lincoln before me.
I had no long term plans or direction in life until I started going to school again at De Anza College after having taken a year off after high school.
I knew I had to continue my education if I wanted to help provide for my family. I saw how my family struggled to make ends meet, and I knew I had to make the most of my mother's sacrifice for leaving everything behind to come to the United States.
I graduated from both De Anza and San Francisco State with academic honors, something I could have never fathomed before, thanks to the support I received from programs such as EOPS, EOP, and the Math Performance Success Program. The counseling I received through these programs were integral to my success and helped me reach a point in my life where I feel more stable.
It was my life changing experiences with these programs which has inspired me to go into the field of education, specifically counseling and advising.
Each position I have held in education has been an effort to pay forward all the help I received on my journey and to intentionally increase diversity in higher education, and promote representation in various sectors.
I have witnessed the effect education can have on the life of one person, their family, and by extension, their community.
I am currently at San Jose State pursuing a MA in Education with a concentration in Counseling and Student Personnel.
3. Why is the work we do at ACE so critical?
I am a strong believer of equity and social justice. I believe that in order to dismantle systems of oppression, it is our duty to engage, encourage and support the most underserved population and help them understand the systemic injustices they face and how they can create change in their communities.
As a result of going to college, I have been able to break the cycle of poverty, physical abuse, financial abuse, and low educational attainment.
Now, my mom is able to retire, I can take care of my two grandparents, and I am in a position to continue contributing to social change as a counselor.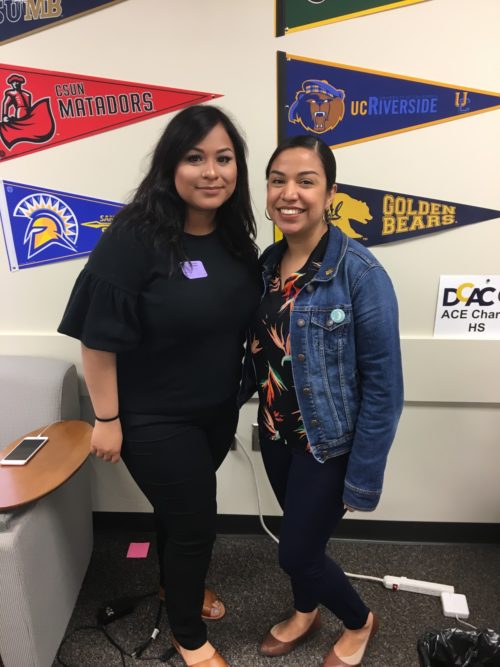 [Angelie Lopez pictured with Sandra, an ACE alumnus attending San Jose City College]
---
Interested in supporting Angelie's work?