ACE Esperanza Middle School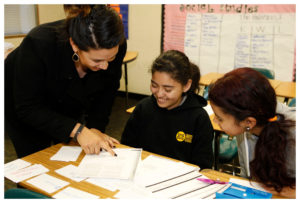 1665 Santee Drive
San Jose, CA 95122
Phone: (408) 326-2155
Email : ace_fm@acecharter.org
ACE Franklin-McKinley opened in 2014 with 150 5th, 6th, and 7th graders in the Santee neighborhood of the Franklin-McKinley school district, and is co-located with Bridges Academy. The school will grow to 450 students by 2017.
ACE Family student hand book 2018-2019
Manual de la Familia y el Estudiante 2018-2019
ACE Esperanza Middle School is a public charter school authorized by the Franklin-McKinley School District.